Recently, the Flemish Minister-President Kris Peeters and the Minister of Innovation Ingrid Lieten invested 4.8 million euros for research in offshore wind energy. This project, the "Offshore Wind Infrastructure" (OWI) project, is an initiative of the companies 3E, Hansen Transmissions International, CG Power Systems, Geosea, the research institute SIRRIS and the VUB.
The Offshore Wind Infrastructure research initiative consists in the realisation of a number of investments allowing for the monitoring and modelling of offshore wind energy resources and of the behaviour of systems components in offshore wind farms. On the short term, the project aims at the setup of a complete windmonitoring and testing infrastructure. It aims at improving the lifetime of offshore wind turbine components, at optimising the Operation and Maintenance strategies for offshore wind parks and maximising the energy output of offshore wind farms.
BruWind, along with Sirris, currently acts as the scientific coordinator of the "Offshore Wind Infrastructure" project.
The profitability of offshore wind farms depends heavily on the ability to predict and deliver maximum power output at competitive costs. The testing and monitoring infrastructure within this project combined with innovative data modeling will contribute to improved operation and maintenance strategies.
Goals: 
Create testing and monitoring infrastructure for offshore wind energy
Generate datasets from measurement campaigns 
Develop advanced data interpretation and modeling techniques
Implement O&M strategies for a better use of offshore windfarms 
This project includes the construction of a climate chamber for accelerated life time component testing of gearboxes to 10MW in extreme conditions. This will be the largest climate chamber in Europe. Secondly, a data-acquisition system will be purchased in order to perform, during three months, a continuous monitoring  on an offshore wind turbine near the Belgian coast. This will allow us to investigate the influence of waves and wind on the dynamic behavior of offshore wind turbines and their foundations. Finally, some Lidar instruments will be installed for the assessment of the wind resources at virtually any location within an offshore wind farm.
More information about the infrastructure in which OWI-Lab currently invests can be found under Core competences and Services.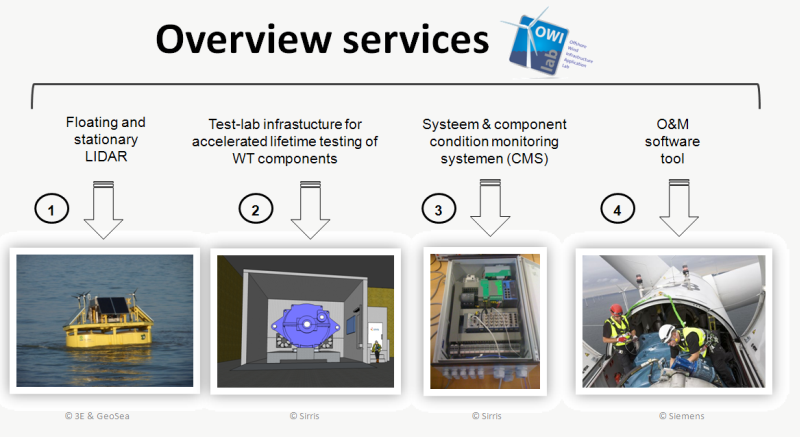 Project Partners: